Possibly the largest and starkest risk arises from climate migrants and refugees. Migration has already started, even in rich countries like the USA, where people are moving away from the coasts because of sea-level rise and forest fires.  Whole cities are thinking about relocating, such as Jakarta which may be under water within ten years.  Migration between countries is even more troubling given its propensity to cause social unrest.  What this means for the South-East of England, relatively well protected from mass population movements as the UK may be, remains to be seen.
There is no doubt about it: every one of us is going to be impacted by climate change, whether rich or poor.  It is happening now and will accelerate. Climate changes will move from being significant in property-related decisions to critical, and not over a matter of decades but in a matter of years.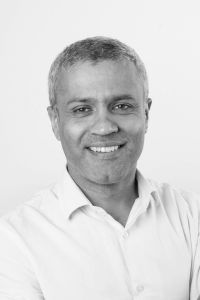 Pooran Desai OBE HonFRIBA has worked in sustainability for over 30 years, as a real estate developer and sustainability advisor to individuals, companies and governments in 30 countries. He put together the UK's first zero-carbon village development and has led the creation of sustainability strategies on projects large and small, worth over $30 billion.